Asian Youth Services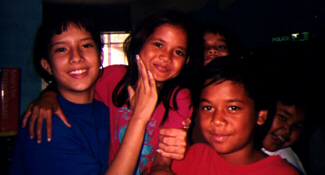 Asian Youth Services serves primarily Cambodian, Laotian and Vietnamese children in the Uptown neighborhood of Chicago (though all kids are welcome, if they follow the rules).
The center is located at 4750 N. Sheridan Road (Institute of Cultural Affairs), rooms 476-478 (4th Floor). AYS is just three blocks from the Lawrence El stop on the Red (Howard-Dan Ryan) Line, on the southwest corner of Lawrence and Sheridan.
Volunteers from Northwestern University, especially the Northwestern Volunteer Network as well as the Residential College of Cultural and Community Studies (CCS) have helped AYS greatly over the years, as have students from New Trier High School and North Shore Country Day School. For example, CCS turns their basement into a haunted house every Halloween.
The director, Shari Fenton, has worked hard to get several children into Chicago's finest private schools, including North Shore Country Day School, Northridge Academy and St. Scholastica College Preparatory.

Asian Youth Services wish list
Money (to pay for rent, buses for field trips, private school tuition; checks made to specific needs are appreciated)
Tutors, especially for reading, math, and the sciences
Notebook paper
Cleaning materials (paper towels, cleaner fluid, garbage bags)
Sturdy bookshelves
"Modern" computers (we have 2 working Apple IIe and an IBM (pre-Windows). Software for these would be nice, but MacIntoshes & higher-end IBMs would be better.
Pool Table equipment (sticks, racks, balls)
A vacation for Shari Fenton, the hardest-working and most dedicated social worker in Uptown
"El" tokens (especially student tokens, for kids who go to Chicago area schools)
Money (hey, it's a major need; AYS isn't a for-profit business)
People have helped in creative ways, such as a Talent Show at Northwestern University.
Thanks to everyone who has helped AYS --so far!
AYS is a non-profit organization, and gifts are tax deductible.
If you have any questions, you may call the center, or the director, Shari Fenton, at 773-517-8525. Donations may be sent to:

Asian Youth Services
5701 N. Sheridan Road
Suite 6N
Chicago IL 60613


Also, you may call the following volunteers:

from Northwestern University
Joe Skalski or Valerie Barrios
from the Uptown neighborhood
j.p. paulus 773/784-5640 jp@paulus.com

More pictures
Asian Youth Services
Preparing Our Future
4750 N. Sheridan Road (Institute of Cultural Affairs), rooms 229-230
Chicago IL 60640
at 773/517-8525 AYS Center Phone
Thanks to Vuthy Pen for giving me a corrected graphic of the Cambodian flag

Thanks for being visitor number:


This counter was initiated on 2 September 1997
This home page was created by

j.p. paulus . Email: jp@paulus.com
The neighborhood of Asian Youth Services:

Map of the AYS neighborhood, Uptown